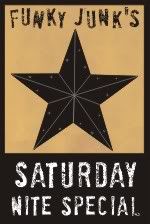 I am joining in the fun at Funky Junk Interiors for the Saturday Nite Special vignette part. And discovering I have a lot of work ahead of me. I had trouble finding any vignettes... I don't feel too bad as I am still getting settled in our new home. But this has definitely motivated me to pull out some of the things I like and start playing around with different groupings.

The grouping below is in the eating area of my kitchen. The crow is a visiting for Halloween as is the little black picture.
This sits in my sunroom. It should be time for my Hoya to think about blooming this winter again.
Another spot in my sunroom. I so love this crusty little stool. One of those things you probably either love or hate...
Old books raising a bedside lamp up to a user friendly level. Anyone remember reading any of these as a young girl?
Have you figured out that I have very eclectic taste? The chamber pot is used for collecting my change. The little porclain drawer holds the jewelry I wear on a daily basis.
I think tomorrow I will be taking some time to gather, arrange and tweak. And now off to see what inspiration I can gather from what you all have done.